School Social Work Career Path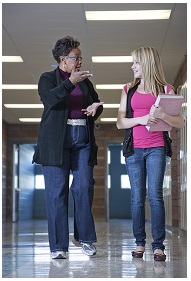 According to the School Social Work Association of America, "School social workers bring unique knowledge and skills to the school system and the student services team. School Social Workers are trained mental health professionals who can assist with mental health concerns, behavioral concerns, positive behavioral support, academic, and classroom support, consultation with teachers, parents, and administrators, as well as provide individual and group counseling. School social workers are instrumental in furthering the mission of the schools, which is to provide a setting for teaching, learning, and for the attainment of competence and confidence."
The School Social Work Career Path in the University of Utah College of Social Work's MSW Program consists of two classes and a school-based practicum:
This course offers an orientation to social work practice in schools. Students will become familiar with traditional and changing social work roles and practices in schools, as well as with larger systemic trend, which impact school settings and school-based social work. This course is designed to help students acquire knowledge, values, and skills appropriate for social work practice within primary and secondary school settings. Special attention will be given to working with students, teachers, parents, administrators, and the community.
This course focuses on the knowledge, micro skills, and values appropriate for social work practice within the school setting. Emphasis is placed on the tasks of social assessment for educational and behavioral planning, the formulation of goals and objectives, and accessing school resources and external referrals. Theoretical approaches include evidence-based practices for behavioral interventions, problem solving, brief and group treatment, and utilizing school data to link with age-appropriate interventions.
MSW students will be placed in a practicum setting where they will have direct contact with an experienced school social worker. They will be able to apply their classroom knowledge and skills in working with students in primary and/or secondary school settings.

After completing the School Social Work Career Path's required courses and praticum, and earning an MSW, students will be eligible to apply for School Social Work licensure through the Utah State Board of Education.
The School Social Work Career Path requires an application, as space is limited. Eligible MSW students must apply no later than February 15, to be considered for the following fall.
Join us for a live virtual information session about the School Social Work Career Path on Tuesday, February 1, 2022, from 12:00 PM until 1:00 PM. Students will receive Zoom login information from Social Work Academic Advisors prior to the event via Canvas. Questions? Contact your academic advisor.
Apply Now (Current MSW Students Only)