Breaking Down Barriers to Men's Mental Health and Wellbeing
In the past decade, there have been significant increases in suicide behavior in middle-aged men. Unfortunately, research shows us that men are often less likely to seek out and utilize mental health and supportive services for a variety of reasons, often grounded in stigma and male stereotypes. But researchers Jodi Frey, associate dean for research at the University of Maryland, Baltimore School of Social Work, and Philip Osteen, dean of the University of Utah College of Social Work, wanted to see what they could do to change that. How could they change mental health support to reach more of the men who need it?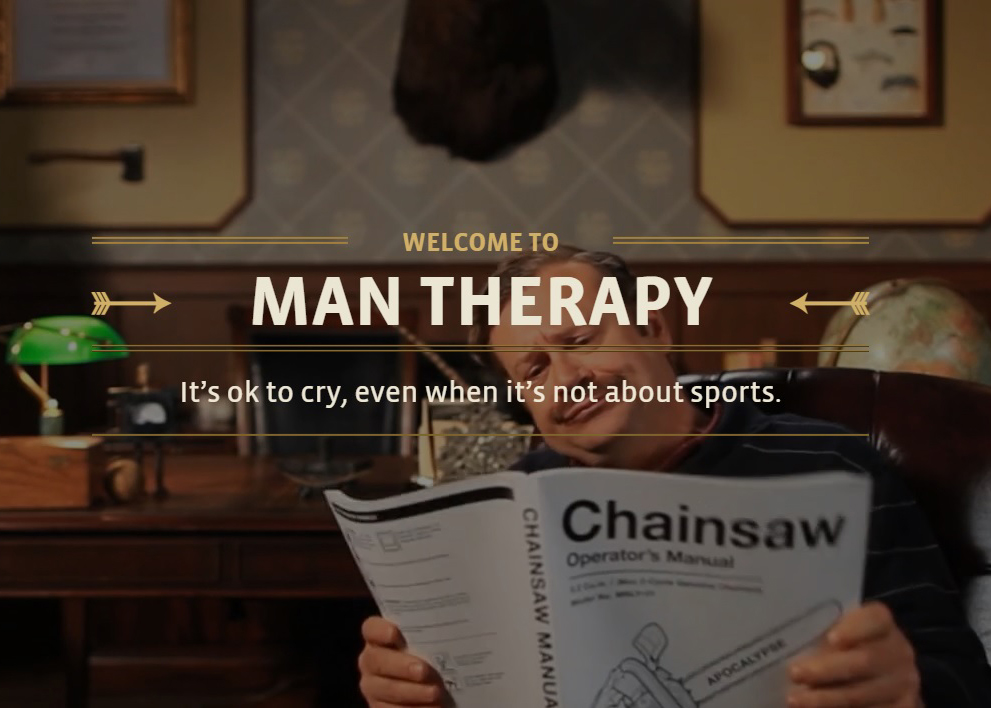 Enter, Man TherapyⓇ. Man Therapy is a self-directed online tool that provides information and support related to mental health and suicide ideation using humor. The program was created as an upstream approach to preventing suicide for the highest-risk men, who often don't receive support. In addition to an anonymous assessment tool, the website includes informational articles, answers to common questions, stress reduction techniques, and testimonials from men who have experienced similar struggles. Much of the content is presented by the hyper-masculine caricature Dr. Rich Mahogany, as he sits in the ultimate man cave—talking to men about their mental health needs, and guiding them through "manly" variations of common stress-reduction techniques like breathing exercises and yoga.
Drs. Frey and Osteen wanted to know if offering help in this novel way would break through the barriers surrounding access to mental health support for men. "Middle aged men are at extremely high risk for suicide, but historically are unreceptive to evidence-based treatments, and therefore need a novel way to connect to services," said Dr. Osteen. "Without that, the rate of suicide deaths among this population is going to continue and possibly increase."
In order to test the efficacy of Man Therapy, over 500 men living in Michigan, aged 25-64, who had screened positive for depression, suicide ideation, and/or anger (a common manifestation of depression for men) were recruited to participate in a randomized controlled trial. Men who met the inclusion criteria based on a mental health screening were invited to participate. Those who enrolled in the study were assigned to a control group, who received a static educational webpage with resources, or the intervention group, who were directed to the Man Therapy website. More comprehensive data on risk and resiliency factors, such as relationships, finances, substance use, help-seeking behaviors, etc., were collected at two-weeks and three-months post-enrollment.
Both the Man Therapy intervention group and the control group exhibited reductions in negative mental health outcomes for suicide ideation, depression, and anger. But one thing that differed significantly was men's help seeking behaviors—things like boundary setting and attitudes about professional mental health, creating a gateway to vital mental health support. As a whole, study participants from the Man Therapy group had a significantly greater improvement in help seeking behaviors. "Ultimately, this is one of the main strengths of this intervention," explained Dr. Osteen. "What Man Therapy seems be doing is shifting the underlying mechanics around help seeking, increasing men's openness to seeking out the long-term mental health support they need."
Another way Man Therapy makes it easier for men to seek help, is that it's fully online. "With some of the first studies on Man Therapy suggesting positive outcomes from using Man Therapy, we are excited to see the impact Man Therapy has on men's help-seeking behavior for suicide prevention," said Dr. Frey. "Results support that Man Therapy should be a tool in the toolbox for all mental health and comprehensive suicide prevention programs."
In future studies, Drs. Frey and Osteen plan to continue to investigate the ways technology can be used to further mental and social health. "Technology is a really powerful tool," said Dr. Osteen. "How do we best utilize online, technology-based resources to address lifelong issues and social challenges?"
If you or someone you know is struggling with thoughts of suicide, please call 988 for help and support.